Why was my Auction Ended ?
Copyright Infringement and eBay auctions
---
If you are reading this About Me Page it is probably because you have had an auction canceled by eBay for using copyrighted intellectual property that you obtained while visiting our web site. The biographical information presented on The Bronze Gallery (bronze-gallery.com) represents over 25 years of dedicated research and most of what you read on our web site is not available in any other reference source other than from us. We provide this biographical information so that our perspective clients who are interested in the original 19th and 20th century bronze sculptures that we are offering for sale will have a better idea of what they are purchasing from us and not to assist you in the sale of items that you own.
We have no issue with the items that you are selling, only with the use of the information that you have copied from our web site and used in your eBay auction listing. Please remove all copyrighted text and images and re-list your item. There is no need for you to contact us.
---
Images, Text, and Graphics
All information presented on the Bronze Gallery web site which includes images as well as the biographical text is copyrighted material and has been filed in the United States Library of Congress Copyright office under registration number TXu1115322 and cannot be used without the express written permission of The Bronze Gallery. We regularly search eBay for sculptural listings and when we come across our copyrighted information being used illegally we notify eBay and the auction is deleted. We have been a member of the eBay VeRO program since its inception and are strong supporters of this program.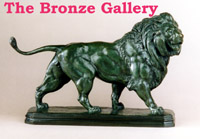 ---
Please read our legal notice page before re-listing your item