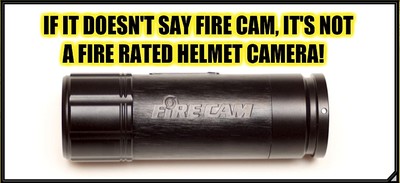 Fire Cam Label on Camera
Fire Cam does NOT sell cameras on eBay. Fire Cam stamps cameras with the logo "Fire Cam" so if it doesn't say "Fire Cam" on the camera, it is NOT a Fire Helmet Camera.
Fire Cam is federally registered trademark "Fire Cam", Reg. No. 3,927,138, as well as common law rights and pending federal registrations of the trademarks "Fire Helmet Camera", "Fire", "Firefighter" and Product Design (hereinafter the "Marks"). Furthermore, our client has rights conferred by the common law, state law, and the Lanham Act, Title 15, United States Code §§1051-1127 including but not limited to common law trademark and trade dress rights and protection against unfair competition, unfair trade practices, trade libel, false advertising, dilution, and passing off. Anyone who sells counterfeit cameras under these marks will immediately be met with legal action.
Favourite Links
Fire Cam Website
fire-cam