Kleinn Automotive Accessories

Kleinn Logo

About us: Kleinn Automotive Accessories is a manufacturer of high quality air horn, train horn, onboard air system, pneumatic and off road lift kits located in Tucson, Arizona USA. Kleinn products are distributed throughout the USA, Canada & South America.

Kleinn offers the best quality products available in the automotive aftermarket for the discerning automotive enthusiast.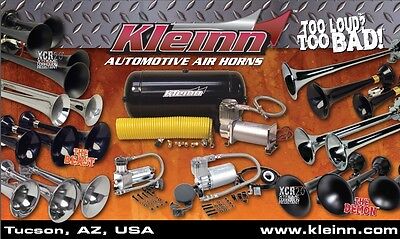 Kleinn Banner

IP Statement:
Kleinn Automotive Accessories is the rightful owner of Kleinn, Kleinn Air Horns, Kleinn Off Road Products, the website www.kleinn.com and associated intellect. Kleinn Automotive actively & aggressively protects its intellectual property in all instances of use by others without express permission. Its logo, print information, photography and methods are considered Kleinn intellectual property. If you wish to use any of this material, you must obtain express, written permission from the IP property owner by contacting us at 520-579-1531.
Manufacturer Defect Warranty Statement:
Kleinn Automotive warrants their products to the end-user, when properly installed and under normal conditions of use, to be free from defects in workmanship and materials for a period of one year from the provided date of purchase, and to the original purchaser of the product. This warranty does not cover abuse, operation in a manner inconsistent with the product's design or damage resulting from exposure to the elements. If the defect is considered "under warranty", Kleinn Automotive will, at its option, repair or replace the product free of charge to the original purchaser.
Disclaimer:
Kleinn Automotive is not liable for any installation charges, loss or damage of any kind incurred in the replacement, repair of any warranted product.
Kleinn Automotive Accessories
2094 N Dragoon St.,
Tucson, AZ 85745 USA
Phone: 520-579-1531
Fax: 520-579-1528
Favorite Links