Molly's Closet, Rude Awakening coffee house, & White Trash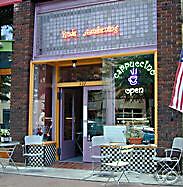 Rude Awakening coffee house, Downtown Fayetteville NC
As the owner of a coffee house and a gift shop, along with working as the accounting manager for a technology company I stay busy. I love downtowns and my husband and I have rehabilitated two old buildings in Fayetteville, NC and opened our businesses in them.
I collect dolls, Hard Rock Cafe pins, vintage Max & Moritz items, Dresden mirrors, coffee stuff, and a host of other interesting items- many that I find and buy on eBay.
White Trash & colorful accessories, Downtown Fayetteville, NC
My company owns the trademarks Rude Awakening coffee house and Coffee Slut.
I am a member of eBay's VeRo program and will enforce my intellectual property rights regarding those trademarks.
These trademark laws mandate that we prevent unauthorized use and misuse of our trademarks. Trademark infringement is in violation of state and federal laws. Please respect our rights and ownership to these names, logos, and marks.
Favorite Links
our coffee shop- Rude Awakening coffee house
our boutique- White Trash & colorful accessories
The shops at Franklin Street Place