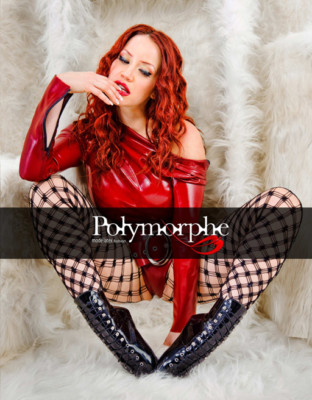 Catalogue Cover

Polymorphe has been a manufacturer of quality, Canadian-made, latex garments since 1995. We will protect our reputation and quality goods by taking necessary action to remove unauthorized users and auctions.
Polymorphe is a member of eBay's VeRo program. Polymorphe strictly enforces its intellectual property rights, including its trademarks, service marks and copyrights against unauthorized users. The photographic images appearing on Polymorphe's website at www.polymorphe.com and in our catalogues are protected by copyright and are not available for use without the express written permission of Polymorphe. In addition, the models appearing in such photographic images are protected against the unauthorized use of their likenesses by virtue of their rights of publicity and privacy.
Note to Sellers:
While it is not forbidden to re-sell your genuine, unaltered, Polymorphe garment on eBay, it is not acceptable to use our original photographs to do so.
Note to Buyers:
The only guaranteed way to ensure that you are buying a genuine Polymorphe product is to purchase an original garment form our website or one of our authorized retailers listed on our website.
Polymorphe can neither validate the authenticity, nor guarantee, nor replace garments sold on eBay.
Favorite Links